Developer's Guide: Introduction
This section assumes some prior knowledge of technical aspects of your Windows computer, including familiarity of your Windows desktop. You should know what these are: systray (System Tray - icons & clock), taskbar (menu on bottom of screen (default location), start menu, etc.. As you read through this Developer's Guide, if you do not understand something you can check the links to various tutorials in the Help section. Also, the forums at WinCustomize can help you in talking to other users & Stardock Support: http://www.wincustomize.com/Forums.aspx?ForumID=168.
Objects, Widgets, Gadgets, Desktops
The DesktopX development environment (DesktopX Builder) lets you build two big classes of desktop applications:
Widgets and Gadgets
These are self-contained stand-alone applications. Functionality examples vary from calendars to stock tickers, to weather monitors, etc.. The default DesktopX distribution contains a full set of widgets with different functionality.

Widgets differ from gadgets in their deployment:

Widgets are .exe executables compiled by DesktopX Builder that need an installed copy of DesktopX Client or DesktopX Enhanced to be used as runtime. That is, you can distribute your own widgets, but other people must have DesktopX installed to use.

Gadgets are .exe executables compiled by DesktopX Professional Builder that contain a runtime, so they don't need DesktopX installed. You can make your own gadgets, distribute or sell them to a customer and have them use the gadgets without the need of having DesktopX installed.
Desktops
Desktops (or themes) are a whole desktop interface that can take over the various Windows desktop elements.
Enterprise desktops
DesktopX Enterprise is a cost-effective solution that allows enterprise customers to create and distribute secure and customized desktops within their organizations.

Using the DesktopX Builder, a desktop is created by an administrator. A typical desktop may include gadgets, widget and program short-cuts. Using the available DX Security Pack, Administrators can then restrict user's rights to access potentially harmful Windows functions. (See screenshot.) Once the desktop is customized to their satisfaction, Administrators save the result as a .Desktop file. The runtime version of Desktop is installed on the users PCs and the desktop is then deployed. An Administrative password is required to make changes.
DesktopX Enterprise is simple to use and does not make changes to the underlying Windows shell. All Windows functions, including the ability to receive Windows Updates, remain intact.
DesktopX Builder - The development environment
DesktopX Builder
DesktopX Builder in its three variants (standard, pro, enterprise), let you build widgets, gadgets and desktop from DesktopX objects.

An object is the most elementary block over which complex functionality is built. Objects can be background images, text, buttons or ActiveX containers.

You can combine different objects together by setting up parent/children or z-order rules to build DesktopX desktops or applications.

To start building DesktopX stuff, you have to use DesktopX Builder, that is installed with the DesktopX Standard, Professional or Enterprise distributions. (The free Client version does not include the Builder.)
From the DesktopX Welcome menu, click the "Create" button to enter the development environment & open the Builder dialog. When you start it, you will not notice an actual development application. The builder environment is right on your desktop! You can start adding or importing new objects by accessing the main UI (User Interface) (double click the systray icon) or right-click on the systray icon.

After you create objects, you can right click to access properties, or you can use Object Navigator to view a list of all instantiated objects.
The DesktopX Builder dialog
So, let's start by looking at the DesktopX Builder dialog: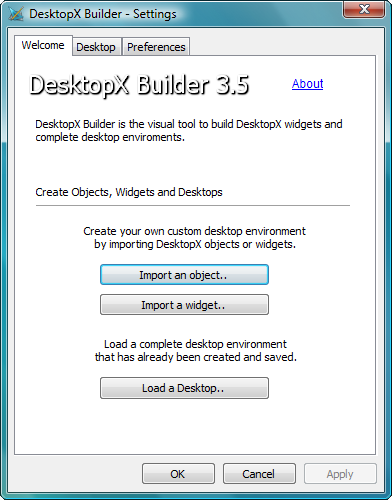 DesktopX Builder - Welcome tab.
This first tab gives you the option to import things to tinker with. So if you want to mess around with things other people have made, this is how you do it. A lot of people don't realize that you can import in widgets and modify them as well. Widgets may be .EXEs but they can still be imported in as a group of objects.

This is the part where we say once again that in DesktopX, everything's an object. When we talk about widgets and desktops and the like, that really only refers to how these objects were exported.

The Desktop tab.
The second tab is the Desktop tab. It lets you start modifying your current desktop by adding objects to it.
Desktop Data Folder
Everything about your current desktop is stored in the "Desktop Data Folder". If you ever want to look inside there, you can press the "Open desktop data folder" button.

New Object
This button will create a new object on your desktop.
Import
This button will import an existing object (or widget).
List
This button will list the current objects on your desktop.
Hide desktop icons
This option will set your current desktop to have its desktop icons hidden.
Hide windows taskbar
This option will hide the Start bar.
Workarea
This option lets you control how much of the screen is reserved for program windows.
Resolutions
This option allows you to set what resolutions your desktop is designed to be used at.
Labels
This option allows you to determine how object labels (think icon labels) will look.

The Preferences tab.
The last tab allows you to set the preferences of the DesktopX environment.
Make DesktopX Builder the default program for your content
This option will make DesktopX Builder, rather than the run-time client, be loaded when you load an object or a builder. It is OFF by default.
Automatically copy new content into your DesktopX directories
This option will automatically move any downloaded content that you use into the appropriate DesktopX directory. It is ON by default. You may want to turn this off if you are finding your system getting full of DesktopX objects, widgets, and desktops from trying so many things out.