---
At a time when DOS games are 320x200 with 256 colors, play a game with 16.8 million colors at the highest resolution your computer is capable! Play a game whose computer AI can multitask within itself. Conquer a galaxy that can be literally 10 times larger than the largest worlds in any DOS game.

In 1994 Stardock Released its first game:
Galactic Civilizations
Winner of:
"Game of the Year!"
-Internet Top 100 PC Game Charts
"Editor's Choice Award"
-OS/2 Magazine
"Best OS/2 Game"
-OS/2 Inside
"GalCiv's depth is nothing short of breathtaking"
-PC Gamer
In 1996 Stardock Released the sequel...
Galactic Civilization II
Winner of:
"Best OS/2 Game 1996"
-OS/2 e-Zine Reader's Choice Awards
"Best OS/2 Game 1997"
-OS/2 e-Zine Reader's Choice Awards
"Number One with a Bullet"
-Computer Gaming World
And now... in 1998 Stardock Releases its Finale for GalCiv for OS/2...
Galactic Civilizations GOLD
---
The great discovery...
It is the 22nd century and mankind has made a fantastic discovery: Hyperdrive. This new drive propulsion uses an old concept brought to life: warping space. The recent discovery of artificial fusion has allowed massive amounts of power to be generated making micro impulse a reality.

A distant journey...
After several years of nearly being axed by the budget cutters, the Santa Maria project (the project to create a faster than light traveling star ship) gets an unexpected break, The Hubble 2 space telescope has discovered that one of the planet's orbiting alpha centauri has a large moon that can support life. Within a few years the Santa Maria is off towards this tiny moon...

An unexpected turn...
Mankind doesn't even begin to understand all the different elements that exist in the vacuum of space. Mankind had only recently figured out the nature of 'dark matter' by this time. The good news: voyage would lead to a great new discovery -- a cosmic thread. The bad news: coming in contact with one with micro impulse engaged causes a micro wormhole to be created which randomly transports the colony ship to a distant galaxy.

You're not alone...
After the jarring reality sets in, your valiant crew begins to try to figure out what to do. You're in distant galaxy but luckily there are star systems nearby that you should be able to get to in just a few years of travel. In fact, the wormhole seems to have given you a momentum never seen before and you can probably get to a life giving planet within the year. Your communications officer reports that she has picked up radio signals from other parts of this galaxy. You are not alone!
Galactic Civilizations puts you in command! It's up to you now. You must colonize this galaxy in order to compete with your alien neighbors. As you build new colony ships and bring new worlds into your realm, you will have to decide what to spend your newly acquired wealth on. Do you research new technologies in order to improve your quality of life, get better weapons, newer space ships, etc? Do you spend it on building a mighty fleet for your defense? Perhaps spend your resources aiding the environment (being a nice guy to the environment isn't so easy once you realize the costs of doing so)? Do you put your wealth towards spying on your neighbors and destabilizing your enemies? Your choices are nearly unlimited in Galactic Civilizations 2.

Choosing between Good and Evil
Galactic Civilizations also lets you play the role of the benevolent leader or as an evil overlord.. As you play the game, different events will pop up that will require you to decide between doing 'the right thing' (and paying for it) or doing the easiest thing. For example, you land on a planet and it's already inhabited by aliens that just above cavemen in technology. If you stay out of their way and let them 'have the land' you'll have to give up 60% of the planet's production value. But doing so will certainly put you into the 'nice guy' category in this instance. Of course, in a brutal competitive galaxy where the difference between life and death could be that planet's producton value, it might be tempting to make them into slave labor...


Galactic Civilizations in action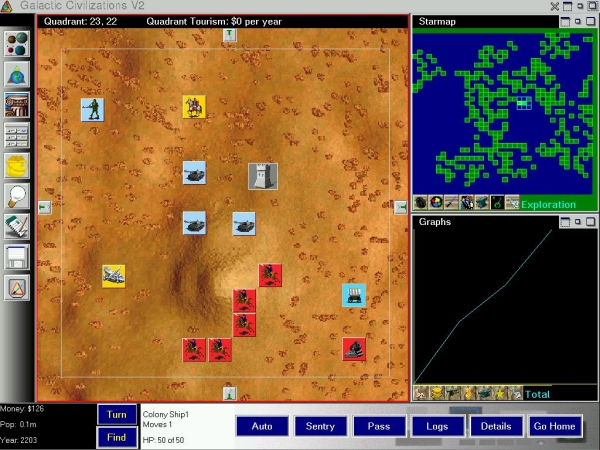 World Civilization
Galactic Civilizations was OS/2's first original commercial game designed from the ground up to take advantage of all of OS/2's powerful features. Galactic Civilizations GOLD continues this tradition by enhancing almost every part of the game and even adding scenarios that will allow people to play the surface of worlds and research brand new sets of technologies.
New Features include:
Larger Galaxies (new Enormous class galaxy which has over 1500 quadrants!) Many new technologies New star ships Multiple scenarios with their own unique technology trees! Return of the rebels New alien race "The Outsiders" Everything that was in the Galactic Civilizations II: Expansion Pack Everything included with Shipyards 2 Major enhancements to the AI New Graphics all around Lend-Lease features to foreign governments World Civilization module (play on land or in space) And a lot more!

---