PLUS!

Screenshots
ObjectDock Plus supports multiple docks on the desktop of different styles (tabbed and untabbed)
Tabbed docks can have the system tray in them. Hold down the left mouse button on a system tray item and you can change its image.
Taskbar items can be grouped together like the default Windows taskbar.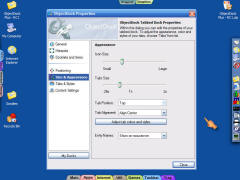 Docks can be moved to the edge and then docked where only the tabs show until the mouse goes over them. The size of tabs and docks are controlled from the easy to use configuration dialog.
Example of having multiple tabbed docks with just the tabs showing.
Docks can be set up so that they're always on top (such as where the tabs show up on top of windows) or behave like normal windows that show up on top when you move your mouse to a specific position.
The tabs and dock backgrounds are skinnable. Use the ones in there or download more made by others. Change the color to any color you choose.
Organize your work as you like.
ObjectDock Plus supports Stardock fly-out menus (you have to see it in action to appreciate how cool this is). A great way to zip through graphic files drives, etc.
Manage your various docks through the ObjectDock Plus system tray item. Very straight forward to create and modify
| | | |
| --- | --- | --- |
| | | ObjectDock Plus! |