TechRadar
"If you've been wishing for Microsoft to fix the Start menu in Windows 11, Stardock has come to the rescue with Start11."
PCWorld
"Start11 solves Windows 11's worst Start menu and taskbar sins."
How-To Geek
"Arguably the most incredible feature of Start11 is the ability to change the Windows 10 start menu to one that looks almost identical to Windows 11's."
Create a common experience
across all versions of Windows.
across all versions of Windows.
Reduce the costs of migrating from Windows 10 to 11 by creating standardized desktops.
One Experience, Multiple versions of Windows
Start11 allows you to make Windows 11 look like Windows 10, or Windows 10 function like Windows 11.
Easier transitions with less training
With easy deployment options and a one desktop experience, there is no training or manuals to be updated.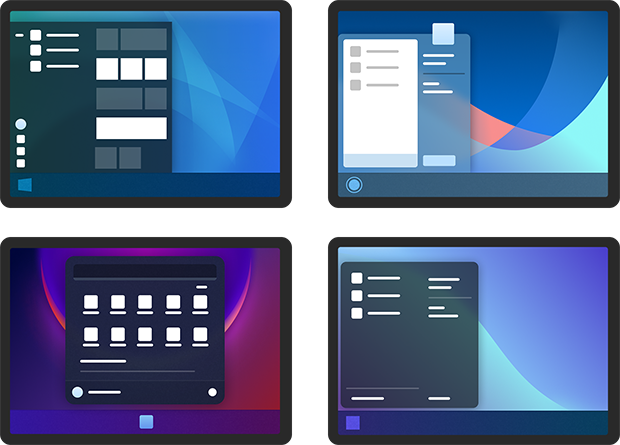 Enhance user productivity
with unique features.
with unique features.
Bring back features from previous versions of Windows and enable new functionality.
Restore classic functionality
Ungroup your windows and restore the context menu to the taskbar in Windows 11.
Add new functionality
Now with the ability to add links to local and network drives, individual folders, the recycle bin, and more.