Completely eliminate unwanted programs, toolbars and plugins.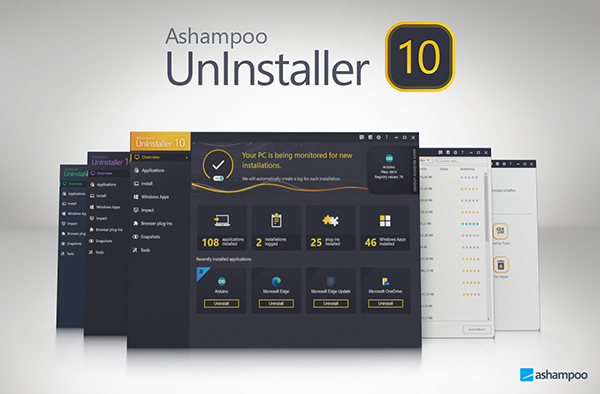 NEW! Visualize impact of applications on system
NEW! Unlock and delete locked files with Unlocker
NEW! Database with uninstall profiles for hard to remove programs
NEW! Extra-thorough uninstall algorithm
Fast uninstalls via drag and drop on program icons
Microsoft-certified program drivers
Removes even the most complex and convoluted setups
Permanently wipe sensitive data during uninstalls
Four phases of perfect uninstalls
Ashampoo® UnInstaller 10 combines four different techniques to eliminate installations down to the last byte. Log files created during installations are the most extensive approach, since every file and Registry modification is recorded. Uninstall scripts provided by each program are also factored in. If a dedicated profile is available in the built-in database, it will also be processed. Finally, a deep system scan is run following the uninstall procedure to detect and eliminate any leftover files and Registry entries! Ashampoo UnInstaller 10 is reboot-proof and continues the hunt for leftovers even after system restarts!
Secure, permanent file deletion
Many files that are removed during uninstalling contain sensitive information like user profiles, payment methods or passwords and should be permanently deleted. Ashampoo UnInstaller 10 includes military-grade file wiping technology to protect your privacy. This ensures sensitive data is irrevocably deleted and no longer accessible even for special tools!
Unmatched ease of use
The smartly designed user interface ensures all essential features are never more than one click away. With UnInstaller, even complex technical procedures are self-explanatory. Remove software completely and without leftovers, monitor new installations automatically, gain new insights into the inner workings of your PC, and say goodbye to clutter.
System Requirements
Windows 10, Windows 8, Windows 7