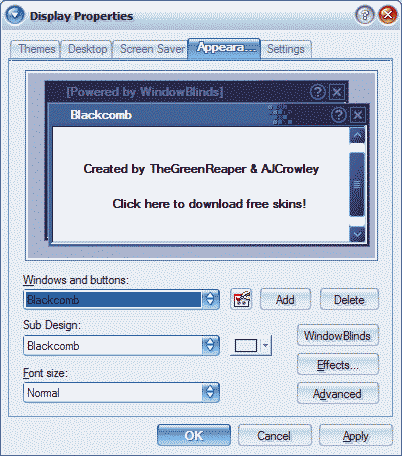 Changing skins
Windows XP: The Appearance tab in Display Properties has been enhanced to allow you to select and apply WindowBlinds skins.
The WindowBlinds button will take you to the Advanced Configuration window and allow you to adjust additional settings (like which controls are skinned, performance optimizations, and excluded applications). The Advanced button lets you configure font and color settings for the current skin.
Tip: The enhanced version (available to registered users) includes skin browser features (including sorting by name, author, and installed date) in the Skins panel of the Advanced Configuration window.
Loading on startup
By default, WindowBlinds will set itself to load on startup when a WindowBlinds skin is selected. Select the Windows Classic skin (at the top of the list) or check the checkbox on the Skins tab to not load on startup. Note: this checkbox is not present on Windows XP.
Select Windows Classic or the included Windows XP Style to prevent WindowBlinds from loading on startup.