Change my Wallpaper
By default, the

tab is shown after clicking on the
menu option. This tab allows you to: see a list (menu at bottom) of the different wallpapers found on your computer, click on one to preview it (larger screenshot in center of screen), change back to the skin's wallpaper (if available) set tags (i.e. keywords) for each wallpaper, filter by tag (if you just want to see ones with plants for example), manage tags, tell WindowBlinds where to look for wallpaper, and alternate between a grid view & preview mode.

Like the other tabs, the large area in the center is the preview area. This allows you to see a larger image of the selected wallpaper. Below the preview is the resolution (i.e. 1280x1024 pixels) and possibly a monitor ratio (i.e. 5:4). When choosing new wallpaper, select one for the resolution of your monitor for best results. If it doesn't exist, choose the next closest size. You can select any size wallpaper, but resolutions different from yours may not appear correctly (i.e. missing some of the image at the borders, wallpaper doesn't cover entire monitor screen). Use the horizontal scroll bar (bottom of screen) to see thumbnails (small version of image) of the wallpapers WindowBlinds has found on your computer. Then click on an image to see it in the preview area. To apply wallpaper to your desktop, either double-click on the small thumbnail (or large preview) image or select the image & click on

.
When WindowBlinds is first installed, none of the wallpapers on your computer have any tags associated with them. This allows you to set whatever tags (keywords) you want for each image. WindowBlinds comes with these tag categories: Animals, Plants, Water, Abstract, Food, Light, and Dark. You can also create your own tags. First, select the wallpaper (seen above) by right-clicking on it. You will see a small menu appear:
In the previous example, a scene with hills, plant life and blue sky was visible. Check the box for "Plants". Now click on "Manage tags" to add a new tag and the following menu (dialog box) will appear.
Adding a Tag
To add a new tag, click the
button and you will be asked for the new "Tag name". So we type in "Sky" and click
to accept. (To abort, click either
or the close
icon.)
Now the new tag appears in the "Manage tags" window:
Deleting a Tag
If you ever want to delete a tag, locate & click on the tag in the list, then click
. You will be asked to confirm, click

to delete it. (Otherwise, click
or
to cancel to close and return to the previous window.)
Click on
to close the "Manage tags" window. Now right-click on the sample picture and check the new tag we created for "Sky". Then click off the menu to close it.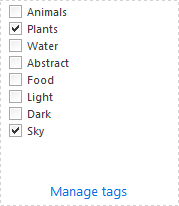 Next, locate other pictures with plant life & check the "Plants" checkbox. Now, click on "Filter by tags" (lower, right side of window):
You will see another small menu appear:
This menu allows you to limit which images (wallpapers) you want to see, based on tags (categories). Check the ones you want to see, uncheck the ones you don't. "** Untagged **" means WindowBlinds will display any images that don't have any tags set yet. This is handy so you can give tag(s) to those missing ones. Now uncheck all but "Plants", then click off the menu to see the updated list of images. You should see only the images you checked the "Plants" tag for on each image.
If you click "Filter by tags" again, then uncheck "Plants" and click off the menu (to close it), you will see only image(s) matching the "Sky" tag:
To view all of the images again, click on "Filter by tags" and check each tag in the list, so all of them are checked. Then close the "Filter by tags" menu and all of the images will appear again.

Wallpaper Settings
Locate & click on the Wallpaper Settings
icon (near "Filter by tags") and a window will open. WindowBlinds will display a list of the folders on your hard-drive where it's looking for images (i.e. .BMP, .JPG format). You can uncheck (don't use) existing folders, and check folders (use these).
You can also tell it to look in other folders by clicking
, browse to it, and then click
. (Click
or
to abort.)
You can also delete a folder in "Wallpaper settings" by selecting the folder, and clicking
. The last option is changing how the wallpaper is displayed on your monitor, the options are: Smart mode (let WindowBlinds determine what is best), Stretch (fit screen resolution), Tile (repeat smaller copies on screen) and Centre (Center on screen, in case the image won't fill the screen).
After making any changes on the "Wallpaper settings" window, to save changes click
. (To cancel changes, click
.) If you made changes, click

.

Grid View
The last option on the

tab is the Grid View. Locate & click on
(next to "Filter by tags") and the large preview area will be replaced by a grid pattern of thumbnail images. If more images are available than will fit on one screen, there will be a horizontal scroll bar of the window. Each thumbnail will have the resolution (i.e. 1900x1440 pixels) and the possibly the screen ratio (i.e. 4:3).
To apply wallpaper to your desktop, either double-click on the thumbnail image or select the image & click on

. All of the same options that worked with the preview area visible will work on this screen: setting tags, filter by tags, and Wallpaper settings. To change back to the preview mode, click the
icon.

Use Skin Wallpaper
To return to the wallpaper used by the current skin, either double-click on "Use Skin Wallpaper" (first item on menu) or select it & click

. If nothing happens (wallpaper didn't change), then the skin doesn't have it's own wallpaper and your can pick your own.