Photo Gallery
1994: Galactic Civilizations for OS/2 released
OS/2 Warp was released at the same time as Galactic Civilizations. A world of opportunity was available for developers interested in writing software for this new market.
Galactic Civilizations for OS/2 in 1994
1995: The OS/2 Glory Days
One of the utilities in OS/2 Essentials (1995)
At CeBIT in Germany showing off "Entrepreneur" for the PowerPC. OS/2 for the PowerPC is quietly killed off after a token release. Entrepreneur is never completed on the PowerPC.
Object Desktop is released and put into retail.
Object Desktop in 1995 -- remember what Windows 3.1 looked like? Which does this look closer to? Windows 3.1 or Windows XP (or even "Longhorn"?)
Object Desktop Pro, Process Commander, Trials of Battle, and Avarice. In 1996 we released more shrink wrapped software than we had before or since. Trials of Battle supported full Internet multiplayer with users being able to connect to the server on the fly. This is taken for granted today but this was the time of Duke Nukem 3D and Doom where only a handful of players could be in a LAN game and had to join together. Similarly, Avarice supported 24bit graphics at a time when most games were 256 color and 640x480 at that.
1997: Troubled Waters, the OS/2 market begins to die
Links Golf for OS/2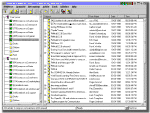 PMINews (1997)
1998: Fall of the OS/2 market
Entrepreneur made its retail debut in 1998. It sold pretty well.
Neil Banfield, a genius in getting Windows to do amazing things, teamed up with us in 1998 and WindowBlinds was born. But it would be a long while before we would know whether you could reliably "skin" the Windows GUI.
Component Manager in 1999. Pretty revolutionary stuff at the time -- software delivered securely electronically as a subscription. We called it our .NET initiative
Object Desktop in 1999
Stellar Frontier a massively multiplayer space action/strategy game. It's go a considerable following even today.
2000: High point of the Dot-Com era
DesktopX in 2000. Lets you build your own desktop by making everything an object that can be any size, shape, etc. It introduced the concept of objects on the desktop (also called "Widgets").
2001: In the shadow of "Whistler"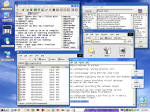 Object Desktop in early 2001
Drengin.net, designed to do for games what Object Desktop was doing for desktop enhancements.
WinCustomize.com launches.
2002: "Skinning" goes mainstream
WindowBlinds in 2002
2003: The return of Galactic Civilizations
The Recruit uses DesktopX, WindowBlinds, and other parts of Object Desktop to create its computer environments.
Galactic Civilizations reborn in 2003.
DesktopX 2 with its IconX feature -- takes your existing icons on your desktop and makes them look super cool.
DesktopX "widgets"
Early GalCiv 2 engine screenshot.
The Political Machine due out early 2004.
ThinkDesk, an information environment designed with the next version of Windows in mind.
Elemental, a turn based fantasy strategy game in pre-production