Happy Thanksgiving - here's the annual thankfulness post!
Article posted on
11/24/2022
We were lucky to have had a pretty mild October here in Michigan, but let me tell you: the chill of November has descended upon us with a vengeance. It may be cold as #$@! outside, but my insides are warm and fuzzy with gratitude for the great year we've had here at Stardock.
Sappy? Yes, absolutely. But that's pretty on brand for me, so you can deal with it.
This year marked more of a return to "normal" with several in-person events and opportunities to spend time with each other. These are, far and away, my favorite part of working here because I enjoy my coworkers' company so very much.
I was finally able to jump back on my A-game with my annual Star Wars Day spread this year - and, while I may be tooting my own horn here, I don't think I disappointed! I rallied and poured in two years of missed celebrations into that one day and now the only problem I'm faced with is…how the heck am I gonna top that next year?
Summer was pretty packed with lots of events that we managed to fit in amidst our annual 4th of July break. A new puppy arrived just before the break: Summer! She has found her place in the roster of Stardogs here and is a constant joy around the office - especially now that she's starting to wrap up her puppy teething phase, haha!
The dogs here at the office are very beloved and spoiled beyond measure. They get excited when they see the building and are always bounding up to us for snuggles, pets, and (if you're me, anyway) treats.
Unfortunately for us, the summer season went nearly as quickly as it came and before we knew it, we were throwing an end of summer BBQ. The food was delicious, though, and the company even better, so I suppose there are worse things!
We played a few games of euchre, watched something summery on the TV, and just enjoyed the conversations. It's nice to unwind a little bit before we head back to our desks.
Getting back to regular game nights has been the best, though. We've had some new people join our team in the last year, and our favorite way to introduce them to everyone is at a board game night! Sometimes it's really fun to pull out those games for big groups and play with everyone together at once before we all break off into smaller pockets of people.
One of my favorite holidays at Stardock is Halloween! When I left the education field to work here, I was feeling sad that Halloween wouldn't have the same feelings without all the costumes and silliness. I was quite happy to find that magic hasn't gone away just because we're all adults!
Every year is a little bit different, and this year was particularly funny because I ended up falling into a group costume by accident. I have this incredible urge to watch Jurassic Park now, though, and I haven't fixed that yet…anyway! This year, our winners had some especially creative costumes!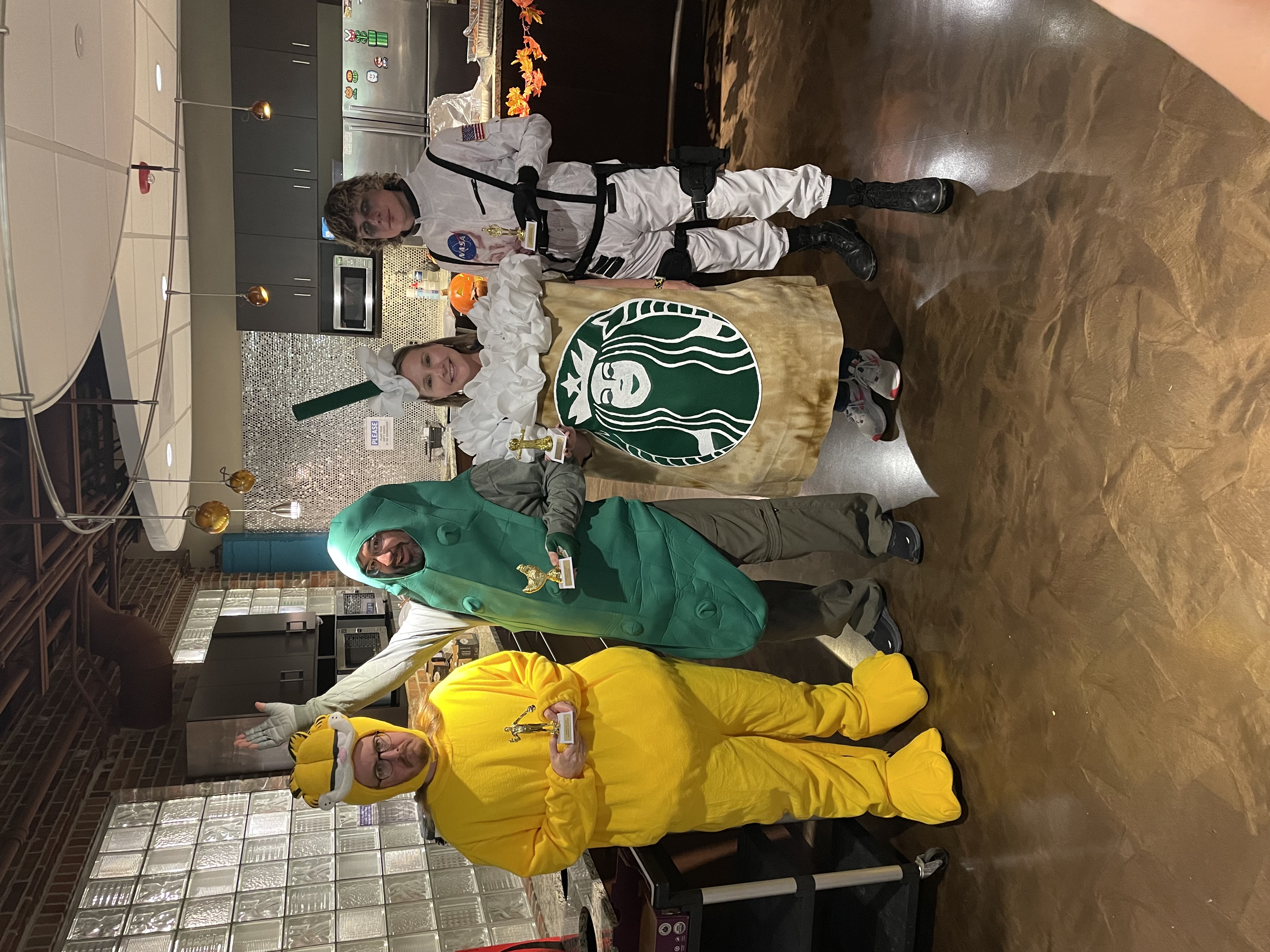 In addition to Halloween, we snuck in our trip to Three Cedars Cider Mill before it got too cold! We wandered (and got lost in) the corn maze, ate some delicious donuts, and toasted up some marshmallows by the giant bonfire while we enjoyed some light-hearted chats.
We are so lucky to have such a great operations team who organizes all of these outings for us so we can stretch, get away from our desks, and build our relationships with our teams.
Next week is our annual chili cook-off, but we've adjusted it to be a Soup-off! My coworkers and I will all bring in our favorite soup recipes for tasting - the competition is always fierce, and tasting everyone else's recipes is one of my favorite things.
I'll report on that later, but in the meantime enjoy this recipe for Drengin Fire Chili. At some point, I should probably try to make this for myself, but my go-to chili staple is an old family recipe so it's hard to break from tradition!
We here at Stardock are also very thankful for you: our community. Without your support and your engagement, we wouldn't be able to do everything that we do! So from ours to yours, Happy Thanksgiving and may your holiday season be abundant with joy and blessings.
Thank you for being here!