Stardock Classic Games Round-Up!
Article posted on
7/1/2022
In case you weren't aware, Stardock has been around for a minute or two.
And by "a minute or two," I mean since 1991! Throughout the years, we have made tons of software and plenty of games. It's true that as time goes on and technology improves, games become outdated - but that doesn't mean they're not still enjoyable. I personally go back and play 1990's The Secret of Monkey Island all the time and it still brings me the same amount of joy as playing, say, the latest game in the Halo series.
I like to celebrate Stardock's classic games because they showcase pieces of our history. They show where we started - Galactic Civilizations 1 - and how far we've come to be where we are now.
Every year, we participate in the Steam Summer sale alongside hundreds of other developers and publishers. Our Stardock Legends pack contains 7 classic games and is normally $39.99 - but until July 7th, you can get the pack for 50% off! That's a lot of games for under $20.
Now, I've only been at Stardock since 2015 so I can't pretend to personally privy to the history of the games I'm about to list below, but I can still appreciate some nostalgia through them.
Galactic Civilizations I Ultimate Edition
The game that started it all! Our CEO, Brad, created the game during his college years and it eventually grew into an entity all its own that became the flagship for many games that would follow.
In Galactic Civilizations, the year is 2178 and the Terran Alliance has invented a new technology: the Hyperdrive. Unfortunately, other civilizations have caught wind of this "secret" invention and have started to race to colonize and inhabit all of the other worlds in the galaxy. As the leader of United Earth, you must research new technologies, build an economy, and create a powerful military force. Don't forget to balance politics and diplomacy while you're at it, too!
The Galactic Civilizations I Ultimate Edition includes the base game and Altarian Prophecy expansion pack, giving you everything you'll need to have a complete adventure as you take a peek back at the first game to bear the name "Stardock."
Galactic Civilizations II Ultimate Edition
Released in 2008, Galactic Civilizations II follows its predecessor and improves on the things players loved while adding plenty of excellent features. You can play on randomly generated galactic maps or experience the story of a fight against an ancient enemy called the Dread Lords in the multi-mission campaign mode.
Galactic Civilizations II Ultimate Edition includes the acclaimed PC strategy game of the year Galactic Civilizations II: Dread Lords, the award winning expansion pack Dark Avatar, and the Twilight of the Arnor expansion pack.
Sins of a Solar Empire: Trinity
Lead a civilization that's embroiled in a galactic war and fight for the survival of your entire race against relentless foe! Sins of a Solar Empire: Trinity is a "RT4X" game, blending the epic strategy and empire management of the 4X genre (Explore, Expand, Exploit, Exterminate) with the fast-paced and tactical elements of real-times strategy.
This game began the franchise that's beloved by all - including those of us here at Stardock! We have a special love for Sins of a Solar Empire here and, while most everyone plays Sins of a Solar Empire: Rebellion, it's nice to celebrate the game's history by going back to the beginning.
Fallen Enchantress: Legendary Heroes
Draw heroes to your banner and face down the Fallen Enchantress who seeks to destroy the civilizations that have risen from the ashes of the Cataclysm. Lead your heroes and confront horrific liches, battle down brood hunters, scream back at belligerent banshees, and make a mighty stand against the dreaded hergon.
Forge a new empire in a world sundered by powerful magic, fight against terrible creatures, complete quests and rediscover lost secrets in their bid to rule the world of Elemental. Fallen Enchantress: Legendary Heroes is another important piece of Stardock history, taking us into our other favorite genre: fantasy. Give it a try for yourself!
The all-father has vanished. Wage war across the mortal world against other Demigods to claim your spot in the pantheon and ascend to true godhood.
Demigod blends action, strategy, and role-playing elements into a thrilling experience. Lead your minions into battle and unleash the dogs of war against your rivals. Choose from several Demigods, each poised for battle with their own unique capabilities and awe-inspiring powers.
Vanquish other would-be gods as you gain levels, increase in power, unlock the power of mystic artifacts and slowly battle your way closer to joining the Pantheon. Demigod may have released in 2010, but its classic gameplay is still a ton of fun!
OK, look. I know you're not supposed to play favorites with kids, but games are another story. I love Dead Man's Draw. It is my favorite classic Stardock game and it came out just a year before I got here. I own several physical copies and it's a long-standing favorite at my family gatherings.
Dead Man's Draw is a simple and strategic game of luck and skill that boils down strategy gameplay into a single, tense decision: to play it safe or risk everything in pursuit of killer combos and boundless treasure.
Players take turns drawing cards in search of the greatest number of points. The simple point values of each card are important, but their special abilities are even more critical. Clever use of each card's unique power can lead to victory, but daring to draw is just as important! Any card could lead to a dramatic bust… but it could also propel you to glory.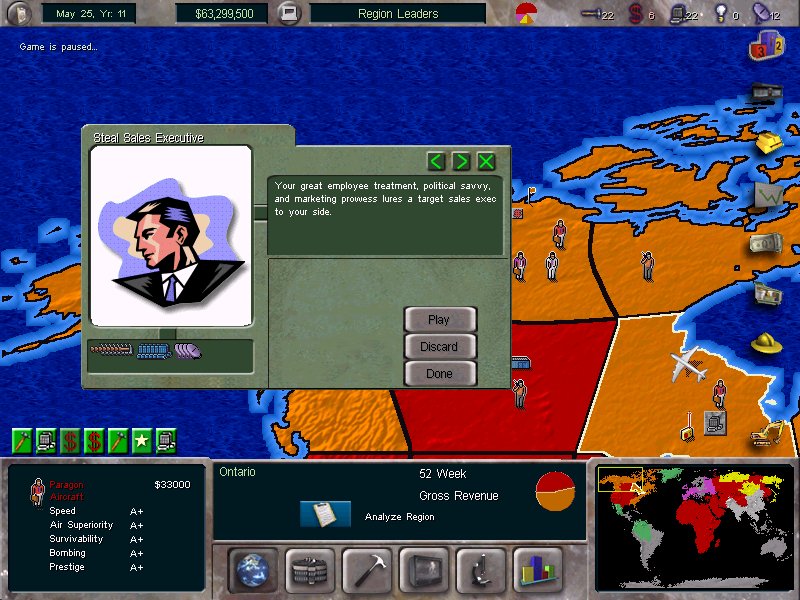 Another old, but classic game, The Corporate Machine is a 2001 real-time economic strategy game. Dive back into the timeless battle for one of the most ruthless environments ever created: international trade.
Corporations exist in a constant state of war: plotting to destroy their rivals, CEOs chase world domination through economic strategies less deadly but more complex than any military maneuver. Control the market, or face the prospect of buyout and bankruptcy. Build your business empire, dominate the industry, and amass a fortune you will need that private island to fully enjoy.
You can get all of these games in the Stardock Legends pack for 50% off through July 7th at 1PM ET. Which of them have you played, and what are some of your favorites? Let me know in the comments!