Stardock's End of Summer BBQ
Article posted on
9/22/2022
While bidding farewell to summer is always bittersweet, we do enjoy the autumn season here at Stardock. Yesterday, we decided to usher it in with style by throwing an "end of summer" BBQ in our cafe!
At the BBQ, we had a chance to relax and eat food that was lovingly prepared by our incredible operations team! They started cooking at 10:30am so we'd all have enough food ready to eat by noon. We are so lucky to have them; I adore the "Grill Dad" energy that is emanating from Raeann here.
Often, there are groups of us who will play euchre during the lunch period. Euchre is a game that really feels like it's "just a Michigan thing," although I'm sure there are people from other areas who know the game as well. We were all so busy enjoying the Texas sheet cake, burgers, and hot dogs that I don't think any of us played at all!
We even caught sight of some of our more elusive remote employees who came into the office for the occasion. It was so wonderful to see their smiling faces and be able to catch up with some casual chats.
Summer is usually pretty quiet around the office, as many of us take vacations or spend time remotely up at lake houses or cottage retreats in various places (usually in northern Michigan). Still, we find ways to get together for a bit of fun by sometimes taking lunchtime walks in the warm weather or getting together for game nights when we're all in town.
The office dogs - not to be left out! - made sure to hop around and sit and visit with everyone during lunch. In part because they're precious little social bugs, but also in part because they were hoping one of us had dropped some food that they'd need to help clean up.
Cheesecake has more than earned her spot in the booth!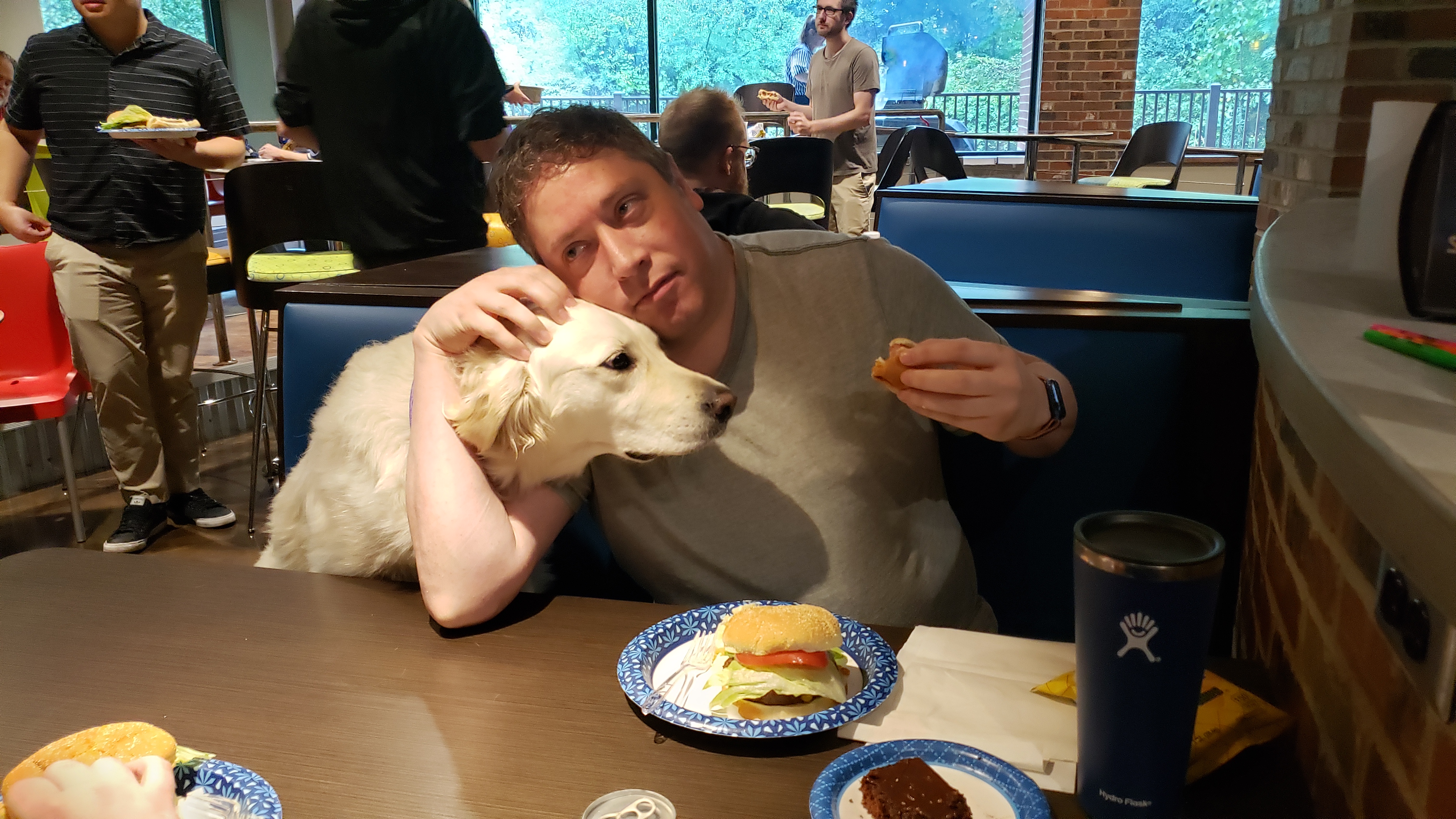 The BBQ felt like a great way to break up the work day and enjoy the last whispers of summer. It made sure to bid us all farewell with a nice big thunderstorm for our ops team to grill through! Meanwhile, Cheesecake is bidding farewell to the burger that Brian refused to share with her.
How are you spending your last few summer days? Are you looking forward to autumn? I'm sure it looks different in places outside of Michigan. Please share with me!