Published on Thursday, January 27, 2022 By Tatiora In GalCiv IV News
Galactic Civilizations IV Enters Beta
The beta unlocks all previously blocked civilizations from the alpha
and adds the new Terran Resistance
View the Beta Guide Here | Full Beta Changelog
Seek out new star systems and discover the exciting potential of the subspace realm in Galactic Civilizations IV! You are the all-powerful leader of a spacefaring civilizations and will discover thousands of worlds and dozens of civilizations - both old and new - as you explore the galaxy and try to build a civilization that will withstand the tests of time.

Choose from over a dozen unique civilizations - each with their own unique traits and abilities - and make your mark on the galaxy.
We had an amazing time with our community during the game's alpha period, and now we're ready to open the floodgates with the beta. All the civilizations that were previously locked during the alpha testing phase are now available to play, plus we've added one more: the Terran Resistance. You can look forward to plenty of additional new features and gameplay improvements throughout the beta, too, leading all the way up to launch later this year.

See what your planets are producing easily at a glance on the map.
In Galactic Civilizations IV, you will:
Explore the galaxy

by seeking out new star systems and discovering the potential of the subspace realm.

Meet new civilizations

and cultivate peace – or war – with them. The universe is teeming with all kinds, both advanced and primitive.

Colonize new worlds

that you discover. There are thousands to colonize...if you dare.

Discover new technologies

to benefit and advance your civilization. Some are easier than others for your species to grasp.

Recruit and mentor citizens

with various strengths and weaknesses. Knowing where they can best use their potential will be key to your success.

Shape your government

by placing citizens in places of power and choosing which planets you wish to govern closely. Take care not to be defeated in a coup!

Choose your destiny

through your actions and choices. Determine what you want your civilization to be and lead your people down that path with confidence.

Experience grand adventure

through engaging missions and events that will help uncover the galaxy's rich, ancient history.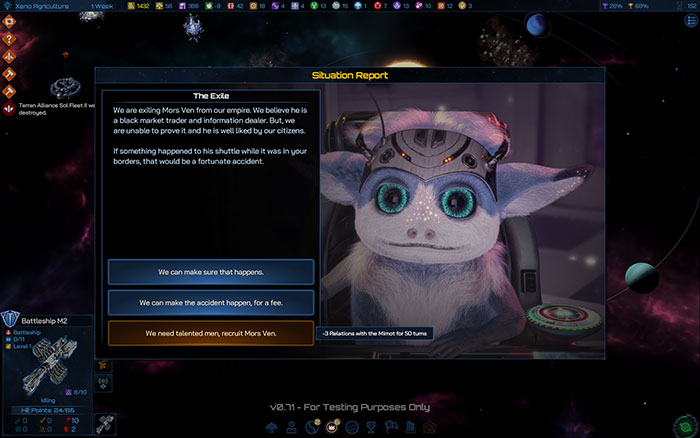 The choices you make can be the difference between your civilization thriving or barely surviving. Weigh each carefully - as leader, it all falls to you to make the right one.
To learn more about how Galactic Civilizations IV please check out our Dev Journals!
View the Beta Guide Here | Full Beta Changelog
| | |
| --- | --- |
| The trade screens make it easy to see when you're getting - or giving! - a raw deal. Because you certainly can't tell from the Yor's face... | Assign governors to the worlds you want to manage in order to build improvements and expand your empire. |
| | |
| --- | --- |
| When other civilizations contact you, it's up to you to make a good impression...or not. Sometimes they're just plain rude. | Subspace sectors are new to Galactic Civilizations IV and make your empires vast and more diverse than ever. |