Quickly switch between active and inactive tasks
Create custom pages to suit your computing style
Swiftly move from one application to the next
Quickly view and manage running applications
Interact
Increase Your Productivity
Swiftly move from one application to the next, clicking through your list of tiles. Switch between pages at a touch of a button or a swipe of your mouse.
Tiles helps users to organize their desktop by task, even allowing subpages to show up as mini-Tiles.
Sharp Design
Tiles makes working on a multi-touch display seamless with its effortless naviagation and ability to switch between pages.
Configure Tiles
Easily adjust Tiles from within the bar. Choose your design, edge alignment, bar size and more. Tiles even comes equipped with an autohide feature to make the most of your desktop space.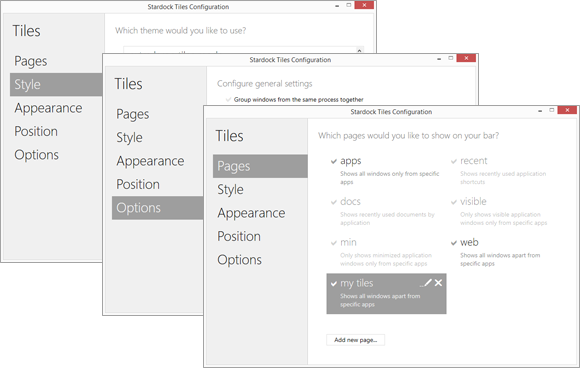 Manage
Pages
Maximize your Tiles experience with built-in pages for different classes of windows - including recent applications.
Customize the Tiles bar - create your own pages to fit your needs.
Create Shortcuts
Add shortcuts to a Tiles page with ease - simply drag your application onto the bar. Create pinned icons for long-term shortcuts. Choose to include system tray icons and eliminate the need for a task bar.
Stylize
Skinnable
Your style is unique and likely to change, so we have built in the ability to change the look of the Tiles bar. Included are four professionally designed skins to get you started.
Customize included skins by adding a photo as the background - or create your own look using the provided skin builder tool.
Preview Options
Spice up your previews - add color tints and icons, animate swipes, blur backgrounds and show captions.
Download to start managing your running applications
Get it Now
System Requirements
Windows 10/8/7/Vista
Internet Access for Activation and DLC